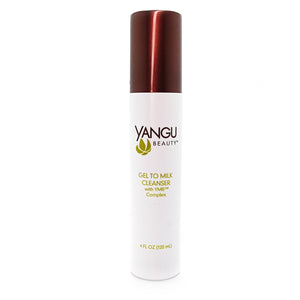 The Gel to Milk Cleanser is a natural deep hydrating cleanser for women of color. This hydrating cleanser contains YMB™ Complex with natural ingredients sourced directly from Africa.

The Gel to Milk Cleanser is a soothing natural oil cleanser that gently removes dirt and makeup and turns to milk to rinse off clean, leaving skin soft, supple and hydrated. This cutting edge cleansing process helps your skin retain natural moisture and doesn't leave your skin feeling dry and stripped.

Infused with Yangu Nut oil and African Kalahari Melon Seed Oil, known for balancing moisture and sebum, the Gel to Milk Cleanser helps minimize the appearance of pores. This gentle natural oil cleanser uses cutting edge science with natural African oils to leave the skin feeling soft, clean, and moisturized.

Gentle, non-stripping formula is safe for sensitive skin.