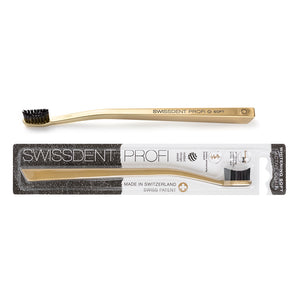 The patented and award-winning SWISSDENT toothbrush is now available with medical active coal on the bristles.
Our patented and award-winning SWISSDENT toothbrushes have a small brush head that reaches even the most difficult areas of the mouth. The concave (spoon-shaped) bristle field embraces the convex contours of the tooth and is also gentle on the gums.
The handle was modelled on a dental instrument to facilitate manipulation. This special SWISSDENT form is unique and patented. SWISSDENT PROFI was also winner of the Red Dot Design Award for «Best Design».
Properties
The porous structure of medical active coal absorbs harmful substances and oxidants.
The micro-coal particles on the bristles have an anti-bacterial effect and reliably remove plaque from the tooth surface.
The cleaning effect is enhanced without attacking the enamel.
Small toothbrush head to reach even the most awkward areas
Concave bristle field (spoon shape) adapts perfectly to the convex contours of the front teeth helping to control the bristles especially in the anterior region
Handle was inspired by the shape of dental instruments for precision handling
Toothbrushes to be replaced when bristles become out of shape