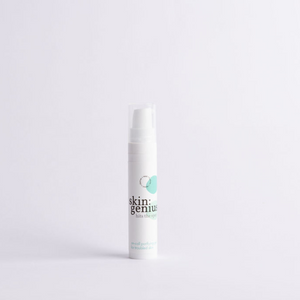 Zap spots fast!! Use this maximum-strength fast-acting gel several times a day as a direct hit onto individual spots or breakouts as it immediately fights the bacteria that causes spots quickly and effectively.
Keep this emergency bottle with you at all times. This perfect size bottle is ideal to keep in your pocket, make-up bag, gym bag or desk drawer.
Loaded with Oregan Grape, Nettle, Roman Chamomile and Yarrow, high in antioxidants this gel will reduce, prevent, calm and soothe spots and breakouts, bringing you results you can see and feel.
Ideal for stings, bites, rashes and hives too.
How to use
Apply a small dot directly onto the spot and soak it up.
LEAVE on and let your skin work its genius.
Can be used several times a day.
You only need a tiny amount - less is more with this beauty!
Ingredients
100% Natural Ingredients:
Aqua (Water),
Hamamelis Virginiana Water (Witch Hazel), Aloe Barbadensis Leaf Extract (Aloe Vera), 
Alcohol, Glycerin, Xanthan Gum,
Achillea Millefolium Extract (Yarrow), Agrimonia Eupatoria Flower Extract (Agrimony), Althaea Officinalis Root Extract (Marsh Mallow), Anthemis Nobilis Flower Oil (Roman Chamomile), Berberis Vulgaris Root Extract (Oregan Grape), Calendula Officinalis Extract (Calendula)
,  Carrageenan, 
Lavandula Angustifolia Herb Oil (Lavender),
Lecithin,
Leptospermum Petersonii Oil (Lemon Tea Tree)
,  Pectin,
Plantago Lanceolata Leaf Extract (Ribwort), Trifolium Pratense Extract (Red Clover), Urtica Dioica Extract (Nettle),
Benzyl Alcohol, Dehydroacetic Acid, Potassium Sorbate, Sodium Benzoate,Citral, Coumarin, Eugenol, Farnesol, Geraniol, Limonene, Linalool.
Ingredients in bold are organic.