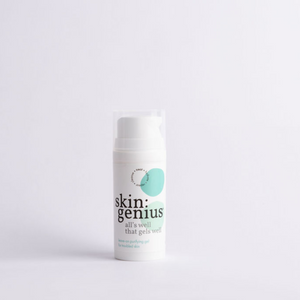 Our maximum strength and fast-acting treatment gel is designed to give inflamed  breakouts, spot and acne-prone skin a treat.
Loaded with oregan grape, nettle, roman chamomile and yarrow, these help fight and prevent the bacteria that causes spots, breakouts and acne-prone skin.  High in antioxidants this gel will protect and soothe inflamed skin, reduce redness and bring a more even skin-tone and texture immediately, bringing you results you can see and feel.
Quick and easy to use, this award-winning powerful and fast-acting leave-on gel will be your secret weapon.   Let the magic begin whilst you sleep.
We believe in the genius of your skin, which is why we've designed a skincare routine that works, bringing positive results you can see and feel.  Start and end your day the right way with skin:genius.
How to use
Smooth over a thin layer and soak it up.    You only need a thin layer - less is more with this beauty!
LEAVE and let your skin work its genius whilst you sleep.
For maximum results use both am and pm.
FOR MAXIMUM BENEFITS - CLEANSE : TREAT : HYDRATE : REPEAT
Ingredients
100% NATURAL INGREDIENTS:
Aqua (Water), Hamamelis Virginiana Water (Witch Hazel), Aloe Barbadensis Leaf Extract (Aloe Vera), Alcohol, Glycerin, Xanthan Gum, Achillea Millefolium Extract (Yarrow), Agrimonia Eupatoria Flower Extract (Agrimony), Althaea Officinalis Root Extract (Marsh Mallow), Anthemis Nobilis Flower Oil (Roman Chamomile), Berberis Vulgaris Root Extract (Oregan Grape), Calendula Officinalis Extract (Calendula),  Carrageenan,  Lavandula Angustifolia Herb Oil (Lavender),Lecithin, Leptospermum Petersonii Oil (Lemon Tea Tree),  Pectin, Plantago Lanceolata Leaf Extract (Ribwort), Trifolium Pratense Extract (Red Clover), Urtica Dioica Extract (Nettle),Benzyl Alcohol, Dehydroacetic Acid, Potassium Sorbate, Sodium Benzoate,Citral, Coumarin, Eugenol, Farnesol, Geraniol, Limonene, Linalool. Ingredients in bold are organic.