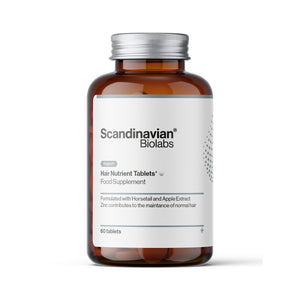 Hair Nutrient Tablets are formulated with a blend of apple extract in combination with horsetail extract and amino acids. It is a concentrated source of B-vitamins and C-vitamins. The formulation includes zinc, which contributes to the maintenance of your normal hair, and riboflavin which contributes to the protection of cells from oxidative stress. They are formulated to supplement a varied diet. It is recommended to take 2 tablets a day.
Vegan Ingredients
Developed in collaboration with a Danish laboratory
Ingredients
Bulking Agent (Microcrystalline Cellulose), Horsetail Extract (Equisetum arvense L.), Apple Extract (Malus domestica), Ascorbic Acid, L-Cysteine, L-Methionine, Surface Treatment Agent (Hydroxypropyl Methylcellulose), Surface Treatment Agent (Magnesium Salts of Fatty Acids), Nicotinamide, Zinc oxide, Calcium-d-pantothenate, Surface Treatment Agent (Glycerol), Riboflavin, Surface Treatment Agent (Sodium Carboxymethylcellulose).