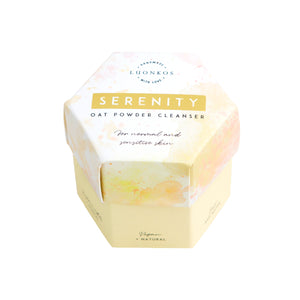 Facial oat powder cleanser – sensitive and normal skin
Serenity oat powder cleanser is designed for cleansing face and light make-up. It is also well-suited for double cleansing together with oil cleansing. We primarily recommend oil cleansing for highly sensitive or atopic skin.
Serenity is 100 percent natural, biodegradable as well as water, plastic and preservative free. The powder cleanser contains, among other things, Finnish oat flour and barley starch. Serenity has no added scents, so it is suitable for most people sensitive to scents.
Oat has soothing and moisturising properties. Hypoallergenic oat is also suitable for very sensitive and allergic skin. Oat contains lots of fats that nurture and nourish the skin. Barley starch guarantees the velvetiness and easy spread of the powder cleanser.
How to use
Serenity oat powder cleanser is packed in a convenient and plastic free shaker making it easy to dispense. Sprinkle about 1/2 of a teaspoon of powder onto your palm, add the same amount of water and mix until smooth. Apply on your face in circular motion until dirt and make-up dissolve. If necessary, add more water. Rinse with plenty of water. Avoid contact with mouth or eyes.
Store in a cool and dry space away from humidity.
Tip: To remove heavy make-up we recommend a double cleansing method; first cleanse with a Luonkos oil cleansing cake and follow up with Serenity powder cleanser.
Ingredients
Avena Sativa Kernel (Oat) Flour*, Hordeum Vulgare (Barley) Starch*, Sodium Cocoyl Isethionate, Betaine*, Hydrated Silica, Xanthan Gum

*Finnish origin

50 g