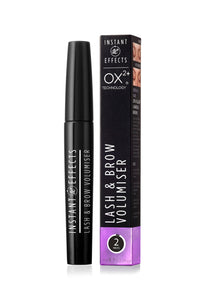 20% thicker lashes in 2 minutes with just one application
40% thicker and 20% longer lashes if used for 14 days
Conditions and hydrates lashes and brows
Repairs the damage of false lashes, extensions and harsh treatments like over-plucking
Say hello to long, thick lashes! The Lash & Brow Volumiser thickens lashes (and brows!) by 20% in just 2 minutes. Put an end to damaged lashes with our clear, gentle, deep conditioning and hydrating formula that does not irritate even the most sensitive eyes. Our patented OX2+ Oxygen Transfer Technology infuses hairs with oxygen to help thicken lashes and brows, making them stronger, healthier and longer. Not quite ready to part with your mascara? Apply Lash & Brow Volumiser as a primer to unlock maximum volume.
Ingredients:
Propylene Glycol, Sodium Polyacrylate, Aqua, Perflurohexane, Perflurodecalin, Glycerin, Perfluorodimethylcyclohexane, Profluoroperhydrophenathrene, Oxygen, Sodium Hydroxide, 1,2-Hexanediol, Caprylyl Glycol, Myristoyl Pentapeptide-17, Benzoic Acid, Sodium Benzoate.